Untappd v. Full Pint: The Battle Over 'Pay to Support'
On December 5, Untappd, the social media app of the beer drinker, announced a way for you to support the growth of Untappd with a pay model. This model doesn't affect the everyday user, but adds features for those willing to shell out $5/month or $50/year. On December 23, The Full Pint, a beer news blog I frequent released a post listing ways you can support the site but in a different fashion then that of Untappd. The Full Pint listed ways to support that are of no cost to you. Now, I am not a conspiracy theorist, but these posts are oddly close together. Is Full Pint trying to reach out to those unhappy Untappd users that feel it was rude of the developers to start asking for money?
RedPint, I Barley Knew Yee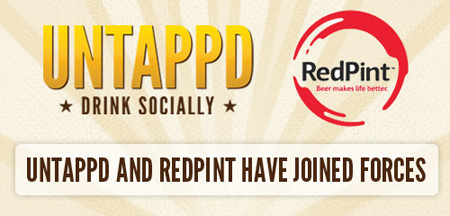 Let's back up. Before I started using Untappd, I used RedPint, a Boston based company with an app extremely similar to Untappd. At the time, it was better than Untappd, as it had its own app rather than a web-based mobile page of Untappd. When RedPint was starting out they were looking for ways to grow, and you can't grow without money, so they kept a "Donate" button handy on their website. To support a local brand, I donated $20 to support the growth of an app I believed in. It was only a short couple months after this donation that RedPint was bought out by Untappd, and my $20 seemed like it was put in the toilet.
Subscription Based Supporting?
When I read the post by Untappd regarding a new 'supporter' role you can achieve by donating, I felt like I was in the same position as before. I donated to the company purchased by Untappd, whats stopping another company from buying out Untappd after I donate? While nobody in the beer social media space sees Untappd going away any time soon, the argument is not over "what if you're bought out?", it's over the future of Untappd as a business. Untappd is a free to use service/application much like twitter and facebook. While Facebook has yet to come up with a way to make money through their free service, you will find twitter could have ads or sponsored posts that show up in your feed. If no one donates to Untappd to sustain its growth, will we soon see a mandatory price from the company?
The same day they announced the opportunity to donate, Untappd posted something on the same day responding to the concerns that Untappds wa mandatorily asking each user for money. Reading this I could tell I wasn't the only one seeing where this is going. I think the initial fear came with a Subscription Based supporter role. Why can't someone make a one time donation to become a supporter? What seemed greedy to most may have cost Untappd quite a few users, but its way too early to tell.
The Full Pint Rises?


Like I mentioned, beer news site The Full Pint posted something a couple days ago with a post asking users to support their website, however all of the ways to support were at no cost to the user, clever. Two things, more websites should take this approach, as it feels they are being listened to, and the big one, was this a way to 1-up Untappd? I don't like reading between the lines, but in my list of daily beer blog sites that I read, posts like these stand out and seemed too close together to not be related. Maybe they have nothing to do with each other, but I like to think The Full Pint was on top of their game with this one.
Take their posts as you wish. I will continue to use and promote Untappd. Given the opportunity to support Untappd is a different story, as I don't agree with a "Subscription Based" supporting role. Give the users the opportunity to donate however much they want in a single donation. I guarantee you will make more money this way. This advice comes from a beer blogger who makes $0.00 on their writing/blogging but has seen this countless times in the start-up space and it ends in less users and more unhappy users. It's not the end of the world (as of last week), and Untappd is still 100% free to use, but let's hope it stays that way, otherwise I will never know how many beers I have had since March of 2010, roughly 1,224.
Cheers,
B